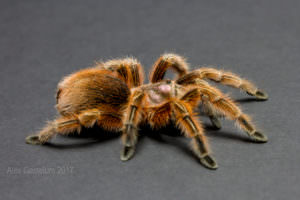 I've created this site as an outlet for my love of arachnids and my passion for photography.  My love for arachnids started early in life when I was a young boy and my parents would go to the mall and let me hang out in the pet shop.  The employees there were very kind and would let me handle the pets and I especially grew fond of handling a Mexican Red Knee (Brachypelma smithi) tarantula they had.  I was amazed at how beautiful and docile this tarantula was and wanted one as a pet.  Unfortunately my parents wouldn't allow me to have one.  It wasn't until later when I was in my twenties that I bought my first tarantula, a Chilean Rose Hair (Grammostola Rosea) much to my wife's chagrin.  She was rather upset with me because I didn't consult with her before buying it and she was a little phobic about tarantulas.  I promised her I'd keep it at school, since I am a teacher, and I did.  After a while she came to accept them and eventually bought one for herself to keep in her library (she is the media specialist at our school.)
Strangely that didn't really kick off my addiction.  It wasn't until almost 20 years later when I started to see some of the newer species that were being introduced into the pet trade.  Many of them were beautifully colored and grew to very large sizes.  I read up on some of them and was worried about keeping them because many of these newer varieties were much more venomous than the new world species I was accustomed to.  There's something about reading "medically significant venom" that makes you think twice about owning one.  I had been into snakes for years and this to me was the equivalent of owning a "hot" snake.  A friend of mine that I met through a former student began keeping tarantulas and was getting into many old world species.  I admired his collection via Facebook and secretly wished I could own one.  One day my friend decided to sell off some of his tarantulas for relatively low prices.  I began researching the species and my attention was captivated by Heteroscodra Maculata (Togo Starbusrt Baboon).  He was selling two.  I loved the chalky white coloration and the beautifully fat legs that this species has.  I asked my friend about the difficulty of keeping them.  He told me the truth.  He told me you have to be careful when dealing with them for cleaning the enclosure or moving it to a new enclosure but that they really weren't that bad as long as you didn't handle them.  After much convincing my wife finally agreed with me buying them with the understanding that if I were ever bitten that would be the end of it.  I was ecstatic.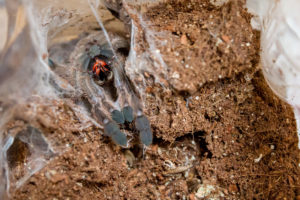 I purchased them and was in awe of the little monsters that resided peacefully in their jars content to be left undisturbed.  I continued to research the species to make sure I knew as much about their care as possible and to be absolutely sure of what I had gotten myself into.  I began to worry when I started to read bite reports and how horrible people's experiences had been with this particular species.  Some web sites considered this species to be the second most venomous species second only to its close cousin the featherleg baboon.  I watched videos of enclosure changes and feeding and everything I could find on this species and began to get really worried.  It wasn't until I had to change mine to a larger enclosure that I finally got to see what these little spitfires were capable of.  They were extremely fast and extremely defensive.  I finally understood what the sites meant by teleporting as they can jump from one location to another with blinding speed.  This was nothing like the slower, lumbering, new world tarantulas that I was used to.  Their first instinct is to run away from you as fast as they can and look for something that they can get under or behind.  I did my enclosure change in the bathtub so there was nowhere for them to run.  Once they realized they were cornered they went into a threat pose and were all fangs.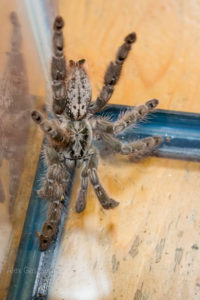 They would lunge every time I went after them with the catch cup.  I could understand why people demonize these creatures because they seemed so filled with hatred that they would strike with every movement and bend over backward with their fangs exposed as much as possible.  I had to take a breath and compose myself and realize that I was in control of the situation.  I had to understand that they are tiny creatures and I was this huge giant coming after them when they were so happy in their homes.  Of course they were going to be defensive.  Once I calmed down I easily cupped the tarantula and slid the lid underneath to close the cup, all the while it tapped the side of the cup and threatened me as much as it could.  I easily dropped it into its new enclosure and it scrambled around for a little bit before finding its new hide where it quickly darted and disappeared for the rest of the day.  I've done this many times since then and I've gotten quite good at it without putting myself at risk.  Of course I understand that there is always a risk, because if you think that your reflexes are faster than theirs you are sadly mistaken, but if I stay calm and have a plan everything usually goes well.
After owning two H. Macs and learning how to deal with them, that is when the addiction began.  I've learned since that people demonize the hotter species because of their toxicity.  Some of them live up to their reputations like the H. Maculata but others are actually quite docile when approached calmly and you give them the respect they deserve.  I've also learned that there are some "new world" species who command as much respect as the "old world" species.  Their venom may not be as toxic but their dispositions can be downright nasty.
Anyway, sorry for the long about me but I wanted to give you an idea of where I'm coming from.  I plan on posting pictures of my arachnids as well as any helpful information that I may come across.  Eventually I hope to become a dealer/breeder of arachnids but that is just a dream for now.  Until then I will enjoy sharing my collection and hopefully attract a few new arachnophiles into the hobby.